1.Does it matter to you if your boyfriend or girlfriend smokes?
Not really but its better for him to stop..:-) (not good for health la come on)

2. How about drinking?

Same*same as the above

3. Do you liked someone you can't have?

Um~~ maybe.. haha i don't know, cause i hardly confess.

4. If someone liked you right now, would you want them to tell you?

Yes~ :-)


5. Whats your favourite sport?

Swimming, Badminton

6. Its saturday night, you're homealone.. what do you do?

HangOut with mysister, Go out and hangout again or probably watch movies

7. Do you like roller coasters?

YEs~ I would like to try one.

8. When's the perfect time to have a bf/gf?

'Singletini'~
Well~ When someone finds their love.

9. If you could date any celebrity, who would it be?

No one~ wait.. ummmmm~ who would it be...? hum..~but if i could trade-in soul to a celebrity's wife, i'll pick ozzy osbourne and Hulk Hogan.

10.What are you doing this weekend?

Church hehe With my family, Shops with my sisters, Practice singing, Probably tengok acoustic.. Watch kakak jessie perform, Enjoying ABC & Big Apple & Fresh..:P

11. Whats is your favourite restaurant?

Recently Fruit Monster (is that a cafe or a restaurant..).. and Diamonds and Windbell.


12. Have you ever hugged someone?


Yes~


13. Ever kissed someone you weren't attracted to?


Um~ no.. Never~


14. Do you like anyone right now.?

Like? a Crush? Yes~


15. What is the first thing you notice about the opposite sex?


Their Personality, The way they laugh, Funny, Cool, true to themselves and womanish guy~ :-) haha



16. Which do you prefer, beach or mountains?


Mountains


17. What kind of phone do you have?


LG~


18. Computer or laptop?


Lappy


19. Jeans or sweats?


Jeans~ Tight jeans because it's comfortable.


20. Which year has been the best so far?


2005 till 2007~ its has been the best and the worst too.



21. How old are you gonna be on your next birthday?


22 Years old..~ and i still dont know how to drive a car..:-(


22. What should you be doing right now?


Working~ ;-(


23. What is your favourite tv show?


The Ellen show, Discovery channel, Cartoon :P.
Anything that cracks me up.



24. What is your last purchase?

Dresses.


25. Are you attracted to girls/boys that smoke?


Yup~ most guys i have a crush on smokes.
But i like it when they're not (Without pretending).


26. Have you ever fallen on your butt in front of a crowd of people?


Ooooooo... Yes and its embarrassing.


27. What do you do when you're at home?


Playing Instruments, Internet, Hangout with my sisters, Do stuff~ Painting, poem anything..~ and most of all Dancing and Singing~



28. What is your favourite subject?


English.. haha and im still bad at it.;P & Construction Technology III :-)


29. What's the best things happened on you?

Days that makes me happy and Forget all sadness~ That is the best things that ever happened to me.




Im done~!
Ady's Blogspot.. ~
http://onlyadeline.blogspot.com/
Have fun doing This...:-) Thanks ady..:-)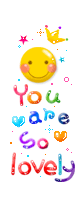 *Hug+u+warm Tight2!*